Which inks are permanent or waterproof?
Most fountain pen inks are far from permanent simply because there is no reason for them to be. However, sometimes the writer needs a permanent and/or waterproof ink. We have a wide range of permanent ink available and the colour range is improving all the time. Please refer to individual product descriptions for more information. We are constantly adding ink reviews to the website, including permanent inks so check out our ink review pages regularly. Links and images to reviews are shown on individual product pages.

Many artists and illustrators like to use a fountain pen to create an outline over which a colour wash is applied. Fountain pen inks are not really designed with this level of water resistance so you may experience some colour being shed when the wash is applied over the ink. The amount of ink shed is dependent upon the brand of ink and the type of paper used. Therefore, it's always best to experiment first.
Increasingly artists and urban sketchers are finding the properties of permanent inks very useful in their work. Not only are they great for line drawing but they can also be used as liquid watercolours. Artist Jane Blundell has created a fantastic resource for colour mixing De Atramentis inks, the left-hand picture below is an example of Jane's colour swatch 'recipes'. The amazing sketch below right is a recent sketch by urban sketcher Róisín Cure from the 2019 Amsterdam Urban Sketching Symposium using the Sailor Fude de Mannen Calligraphy fountain pen 55deg and De Atramentis ink. You can find more information about Róisín and her workshops at www.roisincure.com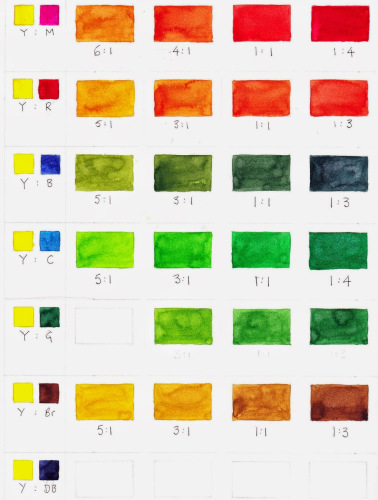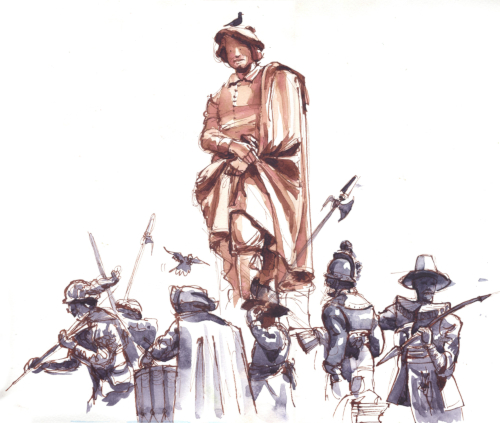 Top tip:
If you want to address an envelope using non-permanent fountain pen ink and you are concerned about what would happen if it gets wet during delivery, rub some candle wax over your writing. This will add a protective layer to stop the ink running if it gets rained on.