How do I know which type of cartridge (or converter) to buy?
We often get asked whether Brand A cartridges fit in a Brand B pen. Hopefully this information will help to answer that question!
Brand-Specific
The pens listed below will only accept their own design cartridges and converters. Attempting to fit another type of cartridge will at best result in leaks and at worst could damage your pen.
Lamy, Aurora and Parker converters are interchangeable to a degree. Whether converter A will fit pen B though will depend on the overall dimensions of each so this is not a universal rule.
International Standard Size
International Size cartridges/converters are made to an industry standard by many manufacturers and will fit many models as in the list below. If your pen doesn't appear in the list it is still quite likely that it takes standard size cartridges. These cartridges are 38mm (1.5in) long and taper slightly.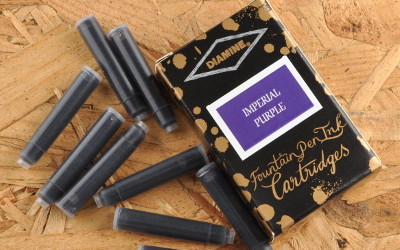 The picture above shows Diamine standard-size cartridges.
Examples of suitable converters can be found on by selecting standard cartridge filter on this page. However, some pens that take International Size cartridges may not accept a converter because the barrel is either too short or too narrow.
Bexley
Caran d'Ache
Cartier
Conklin
Conway Stewart
Daniel Hechter
Delta
Diplomat
Edison
Elysee
Esterbrook
Faber Castell
Franklin Covey
Graf von Faber Castell
Grifos
Herbin
Jörg Hysek
Kaweco
Laban
Lalex
Manuscript
Messenger (WH Smith)
Midori/Traveler's Company
Montblanc*
Montegrappa
Monteverde
Nettuno
ONLINE
Onoto
Pelikan
Recife
Retro 51
Rotring
Senator
Sensa
Sigma
ST Dupont (not Classique, Gatsby, Montparnasse, and Lady; these take an earlier Dupont proprietary cartridge)
Stipula
Tombow
Traveler's Company
TWSBI
Visconti
Waldmann
Waterman (models from past 40 years or so, not the CF model)
Yard-O-Led
The above list is by no means comprehensive. If you have any information that could help us develop the list then we would be pleased to hear from you.
* some Montblanc cartridge/converter pens have a narrow front section that prevents standard cartridges from fitting. Montblanc's own "standard" cartridges have a slimmed-down portion near the front. If the front section of your pen is tight around this slim portion of the cartridge then true standard size cartridges will not fit, unfortunately.